When you are starting out in business, or just looking to increase awareness of your current company, having a stand at a market specific exhibition can open you up to a whole new variety customers, contacts, and ideas.
So, you've just booked your first ever stand at an industry exhibition? Here are a few things that are worth you knowing…
Because you only have a small space to promote your business, you need it to stand out with your branding as much as possible. Things like roller banners are great for a professional look and are also relatively inexpensive.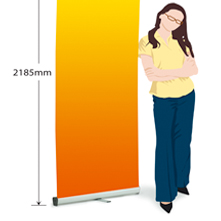 If you have a bigger budget, something like a pop up display will cover the back of your stand but also make your space eye catching, informative and professional looking to all passersby.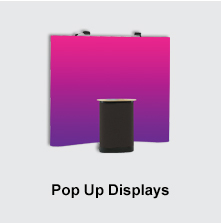 Having a table at the front middle is also useful as a way of talking to clients over, also having things like leaflets and brochures sitting on there. Because you are behind the table it gives an opportunity to be approachable as there is a space between yourself and the people coming to your stand. This table is a focal point and it will enable people to feel comfortable coming over because if you didn't have one, then they would feel like they are intruding.
A thing we have found to work is to display the 5 reasons people should come and talk to you on your display. This gives a reason for people to come and talk to you as they will see clearly what you offer. If it just your logo and website address, some people may be confused as to what you are offering.
Making sure the people who visit your stand leave with something such as a business card, brochure, or leaflet is very important. They will truly review everything they have visited at these events once they get home, so literature is important.
What are your goals?
There are two goals when having a stand at an exhibition;
1)      Make a memorable impression.
2)      Make sure you educate as many people as possible and give them literature.
As you are going to be one out of many stands at the event, standing out, looking professional and giving people a reason is key to making the most of your time there.
We provide a wide variety of equipment to make you stand out at exhibitions such as banner stands, pop up displays, A Frames, and roll up banners. So give us a call today if you are needing any help and advice with your next exhibition stand.